Tag Archives:
matt stafford
The right hand men of the almighty protected quarterback, running backs have morphed into a workhorse commodity. But that doesn't stop them from occupying the majority of the top 10 in any fantasy draft. Use our running back rankings in conjunction with a bit of injury-free luck, and you be sure to get a great return on these players.
Tip: Check out our reviews on the best fantasy football draft boards & kits to make sure your league drafts in style
Top Running Back Rankings for 2015 Fantasy Football 
1. Jamaal Charles
Cuz everyone else on the Chiefs sucks
Year after year this wheeling and dealing back suffers on the miserable Kansas City Chiefs. But that doesn't detract from the fact that his offensive line loves him. And with a receiving corpse that couldn't cut it in an intramural ultimate frisbee league, he's poised to get the bulk of touches and be the primary scoring option. Not to mention his big play potential is as good as any.
2. Matt Forte
I'm your best player…remember?
Maybe it's the apathetic look of Jay Cutler that creates so much frustration for Forte owners, but it seems he should be producing with the likes of Jamaal Charles and Adrian Peterson. The Bears seem to utilize their talent in the worst ways possible, but this year without Brandon Marshall, hopefully Forte will be rightfully given a larger piece of the pie.
3. Le'Veon Bell
Only Big Ben knows how to 'get it in' better
Last year, Bell was likely a late 1st or 2nd round back who surpassed almost everyone's expectations. This year, he's no secret, and he would've been an easy #1 or #2,  but since he'll be facing a 3 game suspension for smoking marijuana with a DUI on his record his value diminishes a tiny bit.  Hopefully this will serve as a source of determination for Bell, who last year got stronger as the season progressed whilst gaining the confidence of the Steeler organization.
4. Adrian Peterson
Finding Switches & Policy Glitches
At this point in time it's an assumption, but we're conducting this rank on the assumption that he's available to play. The team he ends up on doesn't quite matter, as the Vikings are historically miserable and so any other team is essentially more of an upside (significant upside if that team happens to be Dallas, who's offensive line could get Rex Ryan a rushing title). Also recall that he's had some serious injuries to overcome, but when healthy he's an obvious top 10 pick.
5. Eddie Lacy
Better Late Than Never
Last year it took a long time for Eddie to start playing like a man. It must've been Aaron Rodgers spelling out R-U-N to the young bruiser, because after 10 games he had eclipsed the 90 yard rushing mark only once. In his final 8 games he did it 6 times and was ferocious as a screen pass receiver. Let's hope Aaron busts out the child talk motivation earlier this season for Lacy owners.
6. Marshawn Lynch
I'm only playing so I can make millions
Every year we expect Beast Mode to slow down or be hampered by bruises and damages. After all, his last couple seasons have extended into the Super Bowl, and as one of the few remaining workhorse power backs, it seems like his numbers should start to fade. These expectations are probably the very thing that motivate Marshawn, and with the stinky hangover of last year's botched goal line call in the Super Bowl, we shouldn't doubt him anymore.
7. LeSean McCoy
Rex Ryan loves my ankle breakers
There's no denying McCoy's skills, but equally as impressive is Rex Ryan's ability to squander offensive talent. The Bills have been able to generate a relatively productive ground game in the past with players like the perennially injured CJ Spiller and the never aging Fred Jackson. LeSean could see a major breakthrough season this year given the proper opportunities.
8. DeMarco Murray
Can the Cowboy o-line come with me?
After an extremely successful season behind one of the league's fiercest offensive lines, Murray now finds himself behind a shaky line with an unpredictable coach and an unproven quarterback. Look for stable production, but nothing compared to last year when he led the league in rushing, nearly 500 more than second-highest Le'Veon Bell.
9. Jeremy Hill
Everything's OK, Andy. Just gimme the ball
He started only half the games last year, but towards the second half of the season Jeremy Hill displayed a dominance that will secure him as the primary ball carrier this year. With fire-headed and fire-hose-armed Andy Dalton behind the wheel, the Bengals front office better wise up and give him the ball more. If it's not a 56 yard hail mary to AJ Green, the ball should be in Jeremy's hands.
10. CJ Anderson
Next in line for a disappointing Bronco injury
Not everyone's so lucky to be the rushing benefactor of Peyton Manning's offense. Fortunately Anderson has the skills and offensive line to make the most of the situation. Virtually non-existent through the first part of last season, Anderson looks to fill bigger shoes this year as the Broncos will aim to solidify their all around offense instead of relying on the preseason preparation of Peyton that seems to wear off as the season progresses and the postseason begins.
11. Alfred Morris
Not a superhero's butler
The Redskins (or potentially the Bonercats) have repeatedly miscategorized their team as a QB-centric club. With RGIII, who has emotionally and mentally buckled, not to mention the physical buckling of his weak and re-built knees, Dan Snyder's dysfunctional team needs to re-evaluate their strengths. Give Alfred the ball to avoid fumbles, interceptions and injuries. He needs more than one 100 yard game (as was the case in 2014).
12. Arian Foster
Spiritually Zen, Dietarily Vegan and Almost Physically Broken
As is the case most years, Arian Foster is a great back. Problem is, he doesn't have the durability or the consistency in his team's offensive production to warrant a higher pick than 11th or 12th. He could very well exceed expectations once more and generate yards and scores for the Texans, but relying on him as your #1 can be a  risky move.
13. Lamar Miller
The best performer in Miami since Dan Marino starred in Ace Ventura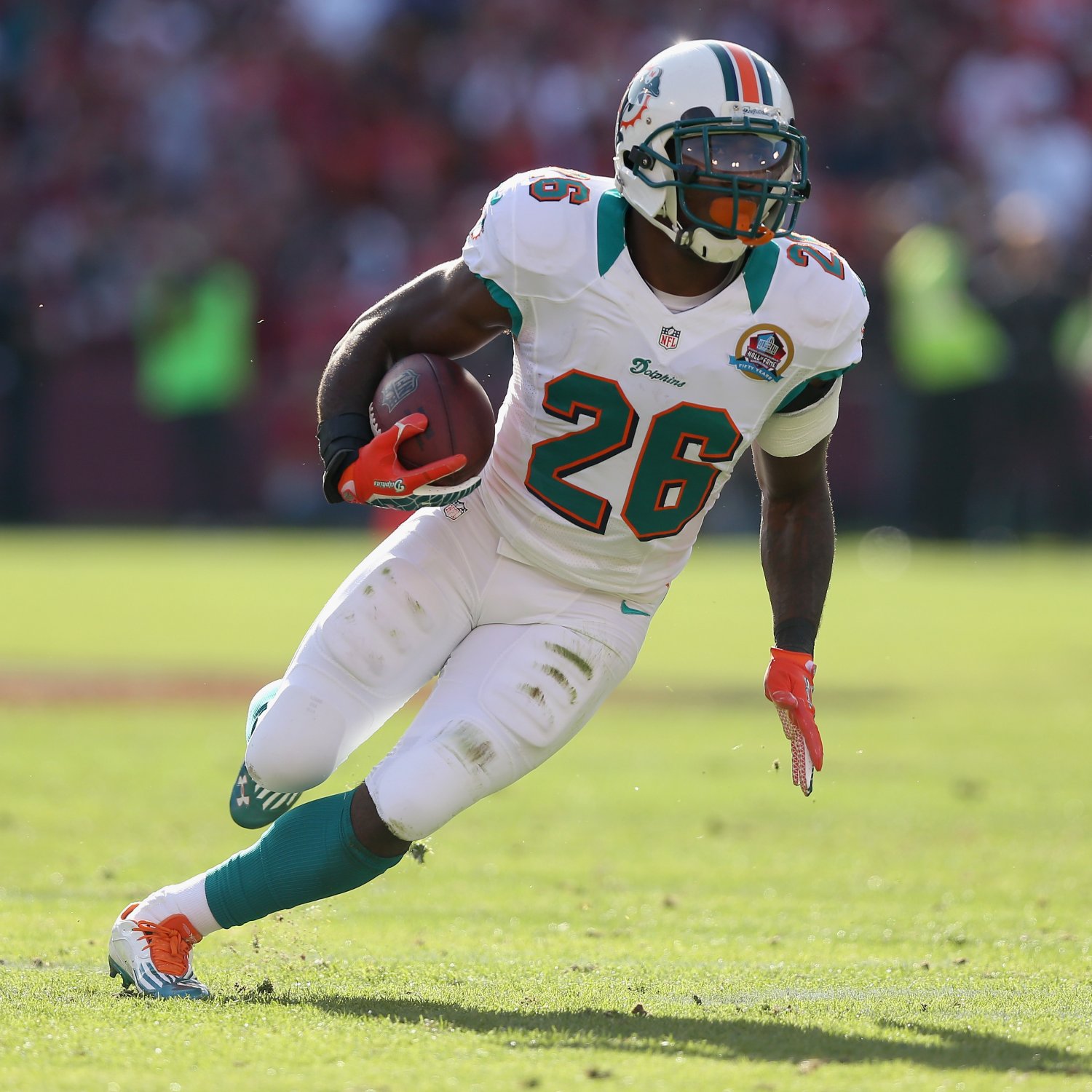 The upside to Miller is that he's improved on a mediocre team for a few years now, the same way AP and Arian Foster did on their respective teams. Quarterback Ryan Tannehill is expected to pick up his game a bit, which will only allow this talented back to see more holes and offensive touches.
Feeling confident this year? You think you're team is primed for production and possibly a championship run? Make sure to browse our guides & reviews for all types of fantasy football trophies – belts, rings and more!
After a boring first half in Monday night's game, Lion's quarterback Matt Stafford looked for inspiration in a rare place: the kitchen. Stafford tells us "PBR's are like 4 bucks for a sixer, so I drink it like Gatorade. I snuck into the kitchen at halftime, where I actually saw Eli digging through our team's freezer for…I dunno, actually…but he scampered away giggling when I saw him, and then I shotgunned a few PBR's to jumpstart the second half."